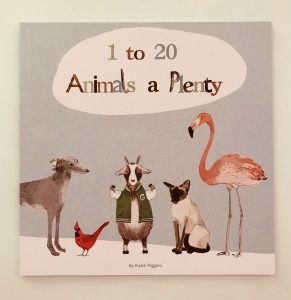 1 to 20 Animals a Plenty is officially our favourite counting book. It's quirky, cool and makes Ivy laugh out loud!
As it moves through the numbers it introduces you to a host of animals doing ridiculous things, making it really memorable for toddlers. You won't find five little ducks here. Instead we see llamas in pyjamas, gorillas gazing in mirrors and naughty raccoons who have stolen balloons from baboons.
The illustrations are both elegant and amusing and there are lots of different animals to explore. I love that it stays away from the traditional farmyard animals (although there are a few mixed in) and gives your child the opportunity to learn about some more exotic creatures. Ivy definitely didn't know what a capybara was before we read this but she now recognises them and can (just about) pronounce it!