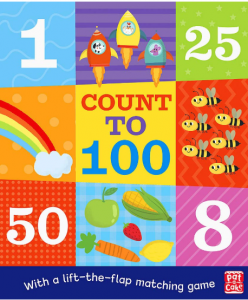 This fabulous counting book will take your child from their baby days right through to pre-school.
Made from heavy duty board, it first highlights the all important numbers 1 through 10 before moving to multiples of 10 in the later pages. Each number is illustrated with a familiar theme and there is A LOT of detail to explore.
If your child likes dinosaurs then they can see what 30 dinos look like all on one page. And how many of those dinosaurs have stripes? How many are red?
If vehicles are their thing then how about 70 of them on one double page spread? How many cars are there? What colour is the rocket? Which animal is riding a surfboard? You get the idea!
Other themes include trucks and tractors, sea creatures, wild animals, farm animals, food and creepy-crawlies (Ivy's favourite page!).
The book ends with a fun lift-the-flap matching game which encourages your child to remember the location of different pictures they have seen within the book.
This is a large format board book which will withstand lots of wear and tear – although the addition of the flaps in the final section means that it's only recommended for children 18m+.
Buy it now: https://amzn.to/2WDgimC
Disclosure: The publisher provided us with a copy of this book in exchange for an honest review.