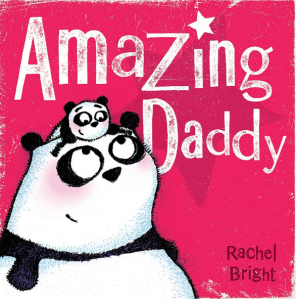 The little panda in this story thinks her Daddy is simply amazing! He makes her yummy food, he loves to snuggle and he smells like 'safe and warm'.
The gorgeous rhyme follows the pair as they go through their day. To an observer, nothing they do is extraordinary – they eat, they play, they have a bath – but to the baby panda every little moment is special because she gets to spend it with her Daddy.
We love this one because of the gorgeous illustrations and the cheeky humour. There are lots of fun details hidden in the pictures – keep an eye out for Daddy's aftershave –  'Old Panda Spice' – and the very important pieces of paper on the table in Daddy Panda's office!
Ivy's favourite page comes towards the end of the book where we see the (literally) one hundred fabulous things that Baby Panda says her Daddy does. Each of the tiny drawings shows them having fun in different ways, from building snowmen and going to the park to splashing in puddles and playing hide and seek. There is so much detail to explore and every child will be able to spot something they've done with their own father.
Buy it now: https://amzn.to/2AA0qcY
Disclosure: The publisher provided us with a copy of this book in exchange for an honest review.