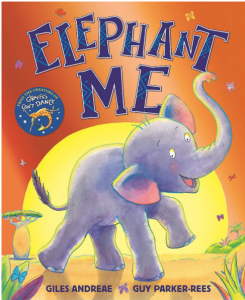 'Giraffes Can't Dance' is one of our all-time favourite books so we were extremely excited to get our hands on this new one from the same team. I am happy to report that it didn't disappoint and we've been reading it on repeat for days!
It's the day of the Elephant Games which means that all the baby elephants have to perform for the King. In line with tradition, if they manage to impress him with their special skill then he will award them with their Elephant Name.
Nina goes first and she chooses to display her strength by ripping a tree from the ground with her trunk. King Elephant Mighty is amazed and he names her Elephant Strong. Norcus bellows so loudly that he gains the name Elephant Noisy! As each elephant steps forward in to the limelight, the King spots that one little elephant is cowering at the back of the line. Poor Num-Num hasn't found his special skill yet and when he tries to perform some tricks everyone laughs at him – even the King!
Feeling dejected he seeks out a new life on his own, but his generous and gentle nature mean that he's soon surrounded by new friends. When he opens up about his story the animals are shocked and dismayed. They love the little elephant's nature and they don't think anyone should be singled out based on their abilities.
Together the group head to the jungle to confront King Elephant Mighty and tell him he's wrong. Num-Num is unique and warm and kind and that's what makes him special – not some silly skill! But will the King agree?
This empowering, rhyming story is fabulous to read aloud and Ivy was immediately smitten with Num-Num. It's great for building confidence and self-esteem in little ones as it highlights the fact that whoever you are, you are enough. When the little elephant starts to believe this he steps in to his power and wonderful things begin to happen to him and to those around him.
If you enjoyed 'Giraffes Can't Dance' then I highly recommend getting hold of a copy of this one, and you might even spot Gerald himself in the adorable illustrations!
Buy from Bookshop.org and support independent bookshops: https://uk.bookshop.org/a/155/9781408356562
Buy from Amazon UK: https://amzn.to/3gZB870
Note these are affiliate links and Ivy's Library will receive a small commission if you choose to purchase through them.
Disclosure: The publisher provided us with a copy of this book in exchange for an honest review.