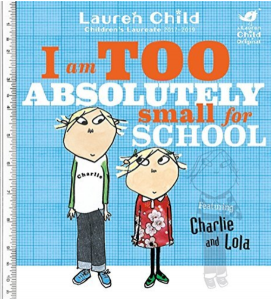 If your child is nervous about starting school then this reassuring story might be just the thing you're looking for – especially if they are fans of the Charlie and Lola cartoon.
Little Lola is about to start school but she really, really, really doesn't want to go. Although she is a big girl she's definitely too small for such a big change, plus she has so many important things to do at home that she doesn't think she'll have time. Lucklily, big brother Charlie is on hand to try and change her mind.
If she can only count to to ten, what will she do if eleven elephants want her to give them each a biscuit? If she doesn't learn her alphabet then how will she write a letter to Father Christmas? And if she doesn't learn to read, then how will she be able to understand the secret messages written on the fridge?
Lola tries to come up with smart replies, but ultimately she doesn't know how she would deal with any of these scenarios. What she is very sure of though is that she doesn't want to wear a uniform and she certainly doesn't want to eat school dinners**. And she doesn't want to make any new friends because she already has an invisible friend called Soren Lorenson. So there!
When the big day arrives she drags her feet but ultimately finds herself at school. How will it go?
This is a fun story featuring familiar characters. It will allay your child's fears and reassure them that they're not the only one feeling nervous about starting school.
Buy it now: https://amzn.to/3jagh3e
* * Note that it transpires Lola doesn't have to wear a uniform and she can take a packed lunch so if these are issues which you are struggling with then this may not be the right book for you!
Looking for more books about starting school? Click here: https://ivyslibrary.com/index.php/category/starting-school/