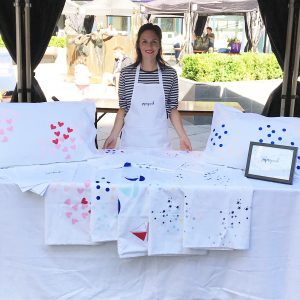 Tell us a little bit about yourself and your family
Hello! I'm Chrissy. Born and raised in Melbourne, Australia, I now happily call London home with my husband and three year old son (we're hoping to adopt a cat soon too!). I'm a former youth worker turned textile designer. I recently launched Pipsqueak, my little business hand printing kids bed linen that also aims to support charities working to help children. I launched in June (2018) so it's still very much a work in progress!
What is your son's favourite book?
We're currently loving all things dinosaur related but my son's enduring favourite is The Barefoot Book of Children (by Tessa Strickland, Kate DePalma & David Dean). It's a fantastic celebration of children around the world. He loves the vibrant illustrations and talking about all the different activities children do.
Which book do you most like reading to him?
I genuinely love reading anything to him he adores, although I do think it's crucial that as parents we also enjoy our children's favourites as we tend to read them on repeat! I'm very lucky in that my son's favourite is also mine. The Barefoot Book of Children is a beautiful addition to every home library, whether big or small. It's a wonderful way to introduce conversations about the world we live in, especially where diversity is concerned.
What was your favourite book when you were a child?
As a child, I loved anything where animals featured: The Brambly Hedge series being a firm favourite. I've started introducing these to my son and truly adore seeing him enjoy the gorgeous illustrations and stories. Wind in the Willows is on my list too! I also have a few Australian titles I'm gradually introducing, which is a lovely way to teach him about my childhood culture.
Who is your favourite children's author and why?
We're so lucky to have so many brilliant authors and illustrators producing such high-quality work for small people, it's difficult to pick only one (it's a privileged problem, I know). But… I would have to name Oliver Jeffers as my all-time favourite. Not only are his illustrations truly magical, but also his stories centre on lovely themes of friendship and overcoming obstacles.
What do you look for when shopping for a new book for your child?
The first thing I look for is something that will help my son make sense of his world, and the world around us. I try to support his current interests (hello, dinosaurs) but also include age-appropriate concepts to help him broaden his thinking. I look for books that are respectful of children and understand them as whole people already, and it's very important to me to show him literature that's inclusive of different cultures and isn't gender specific. Our children understand so much more than they are often given credit for. It's our job to gently guide and nurture their understanding of their world, and reading books together provides many lovely opportunities to do just that.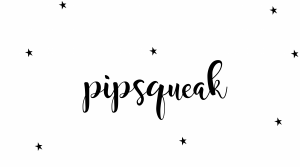 About Pipsqueak
Founded in 2018, Pipsqueak bed linen is a celebration of children and the magic they bring to our lives. We spend so much time in our children's rooms when they are little; reading books, singing lullabies, easing them off to sleep; creating a space both parents and children will adore is essential. Pipsqueak bed linen is fun and fresh, meaning both you and they will adore it for years to come. Each piece is designed and hand printed in Britain using non-toxic inks and high quality cotton percale. Plus, proceeds from every sale benefit charities working to improve conditions for children here in the UK, and globally.
https://www.instagram.com/pipsqueak_uk/