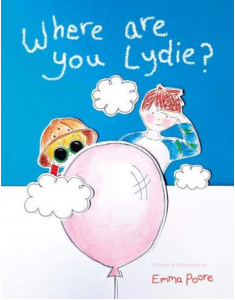 This is a book about child bereavement so if this topic is a trigger for you then please do not read any further———————————————-
This deeply moving book by Emma Poore deals with the extremely difficult topic of sibling loss. The story follows two young boys, Henry and George, as they try to decide what they should do on what would have been their sister Lydie's first birthday.
The day starts off filled with sadness as they discuss their baby sister. They wonder whether she's a star in the sky or a special fairy in a magical land. Wherever she is, they miss her and they don't know how to feel on her special day.
Tentatively they start to play at dressing up and become superheroes in search of Lydie. Then they decide that all birthdays should involve cake so they set about making their sister the best birthday cake ever. When the cake is ready they throw a party because their Dad has explained that even though Lydie isn't there anymore she is still part of the family and will always be with them.
And so the two boys find a new way of dealing with their grief and a new tradition is born.
Recommended by both SANDS and Child Bereavement UK, this is a really comforting book which handles a sensitive topic in a way which is easy for small children to understand. It is non-religious and doesn't subscribe to any particular view of what happens after we die – leaving the door open for children to ask questions and for parents to give their own views.
Although the subject matter is extremely sad, the author's gentle words – and wonderful child-like illustrations – ultimately leave you feeling uplifted.
Buy it now: https://www.emmapoore.co.uk/where-are-you-lydie
Disclosure: The author provided us with a copy of this book in exchange for an honest review.