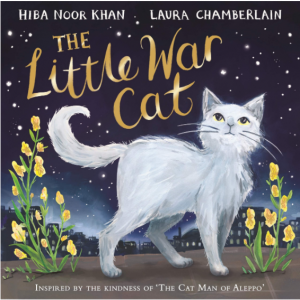 In the beautiful city of Aleppo in Syria a little stray cat plays happily in the sunshine. She lives a charmed life, chasing butterflies, exploring the marble mosques and being fed by the locals – until one day, humans in big boots arrive and everything goes dark.
Now surrounded by sadness and war, the little cat doesn't know what to do. She watches the city crumble around her and is startled by the loud noises and angry voices. She doesn't understand where her friends have gone and why there is suddenly no food. She is hungry and afraid so she hides herself away in the darkness of the city.
But then one day she spots a man helping a young girl who has been injured. The little cat is drawn to his gentle voice and she cautiously follows him home. When they arrive she is amazed to discover a whole courtyard full of cats who are well-fed and looked after. When the kind man spots her he feeds her some fish and stays with her until she is no longer afraid. Soon she feels happy and safe once more and is extremely grateful to her new human friend.
The little cat has learned the power of kindness, so when she spots a little boy crying in the shadows she knows exactly what to do…
Inspired by the true story of Mohammad Alaa Aljaleel – 'The Cat Man of Aleppo' – this moving book shows children that even the seemingly smallest acts can inspire hope and change lives.
Although the topic of war is a heavy one, the fact that the story is told from the perspective of the cat means this is an accessible introduction for children fortunate enough never to have experienced conflict. It prompted Ivy to ask lots of questions and I feel that it is a book we will come back to again and again as her understanding of world events grows.
Buy from Bookshop.org and support independent bookshops: https://uk.bookshop.org/a/155/9781529032130
Buy from Amazon UK: https://amzn.to/2QIDFLl
Note these are affiliate links and Ivy's Library will receive a small commission if you choose to purchase through them.
Disclosure: The author provided us with a copy of this book in exchange for an honest review.