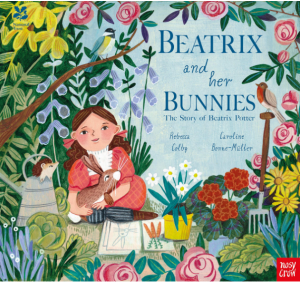 I've read countless stories by Beatrix Potter but I have to admit that until I read this beautifully illustrated picture book I didn't know anything about her life. Did you know that Benjamin Bunny and Peter Rabbit were real live animals which she befriended? Nope. Me either!
At the start of Rebecca Colby's story, young Beatrix is living in London and feeling very lonely indeed. She loves animals and has lots of pets but none of them can really play with her in the way that she'd like. But then, on a visit to the countryside, she meets Benjamin, a mischievous bunny who loves snuggles and games. Finally the little girl has a friend!
Beatrix enjoys sketching Benjamin and she keeps on practising until she gets his little whiskers exactly right, but as time goes by Benjamin gets older and eventually he passes away. Lonely once more, Beatrix throws herself into drawing and writing until many years later she meets another cheeky rabbit called Peter.
Peter brings joy to everyone he meets and this gives Beatrix an idea. Could she write a story about her beloved bunnies which could be read by children around the world?
Published in association with the National Trust, this story is a real treat for little fans of Peter Rabbit and his pals. Ivy was fascinated by Beatrix Potter's back story, and the latter section (where she writes her book and tries to get it published) inspired her to have a go at crafting a story of her own!
Buy from Bookshop.org and support independent bookshops: https://uk.bookshop.org/a/155/9781839941078
Buy from Amazon UK: https://amzn.to/3bcdDbl
Note these are affiliate links and Ivy's Library will receive a small commission if you choose to purchase through them.
Disclosure: The publisher provided us with a copy of this book in exchange for an honest review.