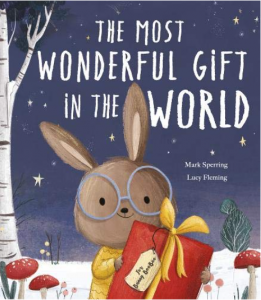 When Esme and Bear finish opening their Christmas presents they are surprised to discover one last gift hidden away at the back of tree. It's a small box wrapped in red paper with a beautiful golden bow. Who could it be for?
The tag reveals that the intended recipient is Little Bunny Boo-Boo – but they don't now who that is! Saddened by the prospect of someone missing out on a gift, they pull on their hats and coats and head out in to the snow. Fortunately they spot a sign for Little Bunny Boo-Boo's house straight away but it looks like the journey might be a tiny bit tricky….
First they have to slip and slide down a treacherous path and then they have to walk through a howling gale. When they come to a deep snow drift they consider giving up but they know in their hearts that they need to get the gift to its rightful owner.
When they arrive at Little Bunny Boo-Boo's house it is warm and welcoming but they discover that she hasn't yet received a single present from Santa! They sit down to open the mislaid gift together, but all it contains is a tiny handwritten note. The bunny reveals that all she wanted for Christmas was a true friend, one who would weather any storm to be at her side in a time of need.
The box may be empty but is it possible that Little Bunny Boo-Boo's Christmas wish has been answered?
This is an utterly charming story with such a beautiful message about friendship and kindness. We see Esme and Bear go out of their way to help someone they don't even know and the result is really heartwarming. I love Christmas books which cut through the consumerism of Christmas and highlight what is really important and this is a fantastic example of that. Highly recommend!
Buy from Bookshop.org and support independent bookshops: https://uk.bookshop.org/a/155/9781788813839
Buy from Amazon UK: https://amzn.to/3opkEtb
Note these are affiliate links and Ivy's Library will receive a small commission if you choose to purchase through them.
Disclosure: The publisher provided us with a copy of this book in exchange for an honest review.