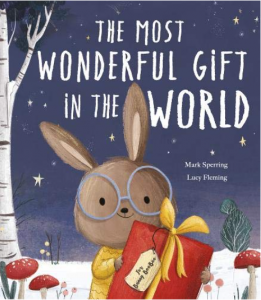 When Esme and Bear finish opening their Christmas presents they are surprised to discover one last gift hidden away at the back of tree. It's a small box wrapped in red paper with a beautiful golden bow. Who could it be for?
The tag reveals that the intended recipient is Little Bunny Boo-Boo – but they don't now who that is! Saddened by the prospect of someone missing out on a gift, they pull on their hats and coats and head out in to the snow. Fortunately they spot a sign for Little Bunny Boo-Boo's house straight away but it looks like the journey might be a tiny bit tricky….
First they have to slip and slide down a treacherous path and then they have to walk through a howling gale. When they come to a deep snow drift they consider giving up but they know in their hearts that they need to get the gift to its rightful owner.