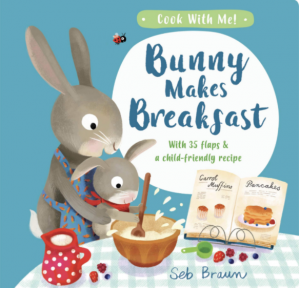 Happy Shrove Tuesday! Did you make pancakes with your little bunny today?
This gorgeous board book follows a family of rabbits as they source ingredients and cook themselves a delicious breakfast – but they need your help!
They start off in the kitchen, where your child is encouraged to lift the flaps to find flour, maple syrup and butter. Next up they head outside for berries, fresh eggs and creamy milk from the cows.
Little Bunny is very excited but really isn't sure what they're making. Can your child help them guess what will be served up?
This is a really joyful, interactive little book and there's a child-friendly pancake recipe at the back so you can make Big Bunny's special recipe together in your own kitchen. The illustrations are super cute and there is lots of detail to explore. There's also a tiny ladybird hidden on every page and Ivy really enjoys trying to find it every time we read this book.
I love that the rabbits aren't gendered and the relationship between them isn't specified, making it easy for everyone to identify with the characters no matter their family circumstances.
Buy from Bookshop.org and support independent bookshops: https://uk.bookshop.org/a/155/9781912756230
Buy from Amazon UK: https://amzn.to/2Zor9Sc
Note these are affiliate links and Ivy's Library will receive a small commission if you choose to purchase through them.
Disclosure: The publisher provided us with a copy of this book in exchange for an honest review.