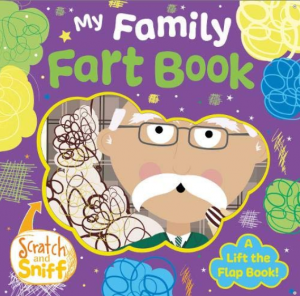 Hopefully by the time you read this you will have finished your dinner as this review is all abourt farts. And not just any old farts – we're talking about smelly ones!
My Family Fart Book is a scratch and sniff board book which is guaranteed to make little ones giggle. Someone has emitted a large bottom burp and it's up to your child to track down the culprit. Was it Grandad, Grandma, Dad, Mum or even the dog? Lift the flap and scratch the patch to find out…
Fortunately all of the smells featured are pleasant so there are no nasty surprises here! The gassy emissions we encounter smell like mint, cherries, coffee, apple, strawberries and chocolate cake, depending on what each family member has been eating.