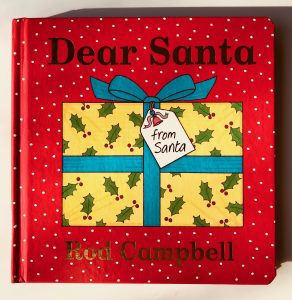 Dear Santa is a little classic for smaller toddlers. Following in the tradition of Dear Zoo there is a little present hidden under a flap on each page – however this time it's Santa trying to choose the perfect gift.
Will he send a toy car? No – too small! 
Will he send a kite? No – too big!
What will end up being the perfect present?
Ivy loves the excitement of revealing what's behind the flaps – and the gift on the final page might just be a tiny bit fluffy!
Buy it now: http://amzn.to/2yu2WKr