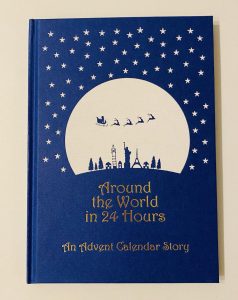 It feels a little early to be mentioning Christmas, but this book is designed to be used as an advent calendar from the beginning of December so you'll want to get your hands on one pretty soon!
This gorgeous, personalised gift book follows Santa's journey as he travels around the world delivering presents. Written in rhyme, it's designed to be read one page per day in the run up to Christmas and features lots of interesting facts about the festive traditions in different countries.
Did you know that in Tahiti the children leave out mangoes and peanut cookies for Santa and his reindeer? or that in Latvia children traditionally have to recite a poem to receive a present? Nope – me either and it's fascinating stuff!