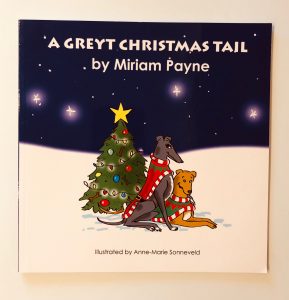 Ramsey and Blue, two rescue dogs, are fast asleep in their beds dreaming of sausages when Santa and his reindeer come crashing down in their back garden. Some of the reindeer have colds and are too ill to pull the sleigh – but Santa still has a whole sack of presents to deliver and he doesn't know what to do.
Fortunately the two dogs have a solution! Ramsey, a lurcher, is super strong and Blue is a retired greyhound who can run really fast. With a sprinkle of magic they leap to the skies and they pull Santa's sleigh with ease.
Soon all of the presents have been safely delivered and grateful Santa asks them to make a wish. Will they ask for more sausages or will they ask for something which benefits dogs less fortunate than themselves?
This lovely story will be a big hit with dog lovers and highlights the fact there are so many rescue dogs in shelters still looking for their forever homes. A portion of the proceeds from the sale of each book will be donated towards rescue charities.
Ramsey and Blue are based on the author's real live pets and Ivy likes looking at the photographs of the dogs at the front of the book and comparing them to the illustrated versions!
Buy it now: https://amzn.to/2GrU9lJ
Disclosure: A copy of this book was gifted to us by a member of the greyhound community