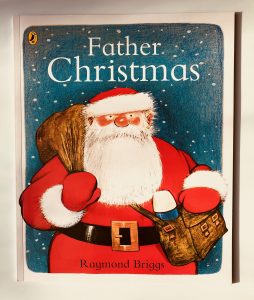 Ivy is a bit young to fully appreciate this one yet but she loves the pictures, which is why I'm including it in our selection of Christmas books.
Receiving presents from Santa is obviously fantastic but Raymond Briggs flips this on its head and tells the story of Christmas from Santa's point of view – and it looks like hard work!
He has to roll out of bed, feed his deer, have his breakfast, get dressed up in his Santa outfit, hook up his sleigh, brave terrible weather and travel the world delivering presents, all whilst dealing with the fact he's coming down with a cold. Poor Santa!
The story is predominantly told in pictures, allowing you to 'read' it to your child however you like.
Buy it now: http://amzn.to/2pi9SuM