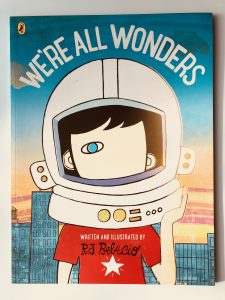 Anyone who has read Wonder by R.J. Palacio or seen the recent movie adaptation will be familiar with the story of Auggie – a small boy with a facial disfigurement who enters a mainstream school. If you haven't read it then it's highly recommended!
This version of the book is suitable for little children and let's them see what life is like when you don't look like everyone else.
Auggie explains how he likes to do all the same things that other children do but because he looks different then people stare and sometimes they are mean to him. He shows you how this makes him feel and how he deals with it.
He knows he can't change the way he looks but he wants to try and change the way people see because he thinks it will make the world a better place.
We love this one and it's an excellent book to start a conversation with a pre-schooler about empathy and how we should treat those around us.
Buy it now: http://amzn.to/2COJJ8v