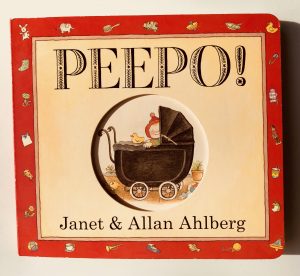 A few weeks ago we reviewed 'Each Peach Pear Plum' and we were inundated with messages telling us we had to read PEEPO! if we hadn't already. I promptly bought us a copy and we can definitely see why you all love it so much! If you haven't read this to your toddler yet then I would definitely recommend it.
A baby is standing in his cot pointing. What can he see? The cut out circle on the next page lets you see a small portion of the baby's view. PEEPO!
Turn the page for a beautifully detailed picture and a rhyme which encourages you to find lots of different things within the illustration. This set up repeats throughout the book, encouraging lots of conversation around the contents of the pictures.
It's a real delight which can either be a quick read at bedtime or something you can easily spend an hour looking at with your child. We love it!
Buy it now: http://amzn.to/2B6F1Cv