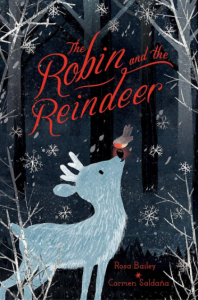 Time for another chapter book review!
It's Little Reindeer's first winter and she's astonished to see snow falling from the sky. Her whole world is soon covered in a thick white blanket, changing once familiar surroundings into something strange and new.
Her herd set off in search of shelter and the calf is given the great honour of walking alongside their Leader. As the flakes start to flurry and the snow gets deeper Little Reindeer pauses to look at the enormous moon – but when spots a shooting star and turns to tells her friends she realises that she has become separated from the group. All she can see are little white tails bobbing far off in the distance.
Cold, tired and alone she tries to get her bearings but it's no use – Little Reindeer is lost. However a chance encounter with a kindly little Robin gives her hope. Together they navigate the wintry terrain with the help of a little bit of woodland magic.