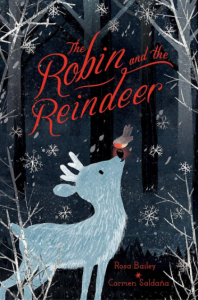 Time for another chapter book review!
It's Little Reindeer's first winter and she's astonished to see snow falling from the sky. Her whole world is soon covered in a thick white blanket, changing once familiar surroundings into something strange and new.
Her herd set off in search of shelter and the calf is given the great honour of walking alongside their Leader. As the flakes start to flurry and the snow gets deeper Little Reindeer pauses to look at the enormous moon – but when spots a shooting star and turns to tells her friends she realises that she has become separated from the group. All she can see are little white tails bobbing far off in the distance.
Cold, tired and alone she tries to get her bearings but it's no use – Little Reindeer is lost. However a chance encounter with a kindly little Robin gives her hope. Together they navigate the wintry terrain with the help of a little bit of woodland magic.
Can Little Reindeer make it back to her family with the help of her new friend?
This early chapter book about the magic of friendship is perfect for reading aloud to children aged 4+ (or for children aged 6+ to read by themselves). It's beautifully written and every page features stunning colour illustrations.
Ivy loved the sense of adventure which runs throughout and the story really pulled her in. She was with Little Reindeer every step of the way and cheered loudly when she was reunited with her family!
The book is a gorgeous hardback with a textured cover featuring beautiful foiled snowflakes.It would make a great gift and is perfect for a Christmas Eve box. We read it over three consecutive bedtimes and it feels like a story we will come back to again and again.
Buy from Bookshop.org and support independent bookshops: https://uk.bookshop.org/a/155/9781444955552
Buy from Amazon UK: https://amzn.to/3nrEALH
Note these are affiliate links and Ivy's Library will receive a small commission if you choose to purchase through them.
Disclosure: The publisher provided us with a copy of this book in exchange for an honest review.