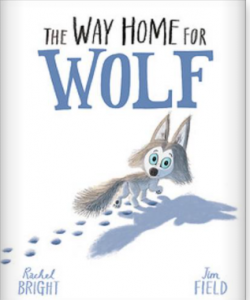 We were lucky enough to receive an advance copy of this lovely new story which is out today in the UK and we've been looking forward to sharing it with you. We're big fans of Rachel Bright and Jim Field's previous collaborations ('The Lion Inside' is in our all-time top five!) and fortunately this new title is just as good!
The heartwarming tale is about a little wolf cub called Wilf who is extremely strong-willed and independent. He wants to do everything by himself and he wants to do it right now – which will sound very familiar to any parent with a toddler!
When his wolf pack is forced to leave their cave, Wilf wants to lead the expedition to find a new home. But the little wolf soon discovers that life in the wilderness is much tougher than it looks and he finds himself lost in a storm. Too proud to call for help he sits alone on the ice, which at that very moment begins to crack. It looks as though all hope is lost but then a friendly face appears from the depths.
Can Wilf swallow his pride and accept help from this new friend? And will he ever be able to rejoin his pack?
This is a fantastic story which will show wilful toddlers that we all need a little help from our friends sometimes. I love that Wilf becomes stronger, not weaker, by letting others help him and by learning from their expertise.
At Ivy's request, we've read this most days since it arrived in the post and she loves it. She's particularly drawn to Wilf's big blue eyes and is fascinated by the host of animal characters who help him get back to his family.
There's something really warm and cosy about Rachel Bright's writing so this winter-themed book is perfect for her style, and Jim Field's stunning snowy illustrations are the ideal match. Recommended!
Buy from Bookshop.org and support independent bookshops: https://uk.bookshop.org/a/155/9781408349212
Buy from Amazon UK: https://amzn.to/2Qt6OVw
Note these are affiliate links and Ivy's Library will receive a small commission if you choose to purchase through them.
Disclosure: The publisher provided us with a copy of this book in exchange for an honest review