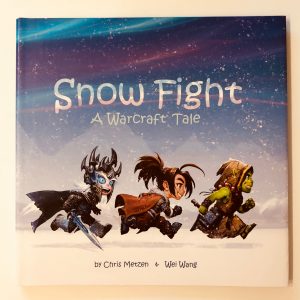 Ivy's daddy has been playing World of Warcraft (an MMORPG or massive multiplayer role-playing game) since it launched back in 2004 so when he spotted this book he immediately bought it for our library.
The story takes three popular characters from the game – Varian, Thrall and Arthas – but shows us them as children on a normal winters day. It cleverly takes the essence of their in-game personalities and perfectly translates them in to little playground versions.
Friends Varian and Thrall are contemplating a snowball fight when neighbourhood bully Arthas turns up to spoil their game. He throws a large and painful snowball which prompts Varian to retaliate. Unimpressed, Thrall shows them that the game is a lot more fun if they can all just play nicely together. But can Varian and Arthas put their differences behind them?
This fun tale is beautifully illustrated and a lovely way for fans of the game to introduce their children to this immersive world. It also carries a clear anti-bullying message and teaches children that the world is a better place when we all just try to get along.
It's an essential read for Warcraft players with small children, but also works as a standalone book for kids who are fascinated by the fantasy genre.
Buy it now: https://amzn.to/2pSDX1b