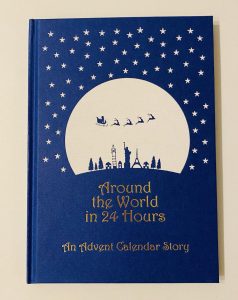 It feels a little early to be mentioning Christmas, but this book is designed to be used as an advent calendar from the beginning of December so you'll want to get your hands on one pretty soon!
This gorgeous, personalised gift book follows Santa's journey as he travels around the world delivering presents. Written in rhyme, it's designed to be read one page per day in the run up to Christmas and features lots of interesting facts about the festive traditions in different countries.
Did you know that in Tahiti the children leave out mangoes and peanut cookies for Santa and his reindeer? or that in Latvia children traditionally have to recite a poem to receive a present? Nope – me either and it's fascinating stuff!
The book is beautifully illustrated with tiny details relevant to each country, including what a typical house would look like and what the view out of a child's bedroom window might include. Ivy loved this detail and was amazed at all the different types of homes children go to sleep in on Christmas Eve.
Our favourite part however is the personalisation, which allows you to add your child's name to the end of the book. Every page features a traditional children's name from the country in question. We meet Kai from Hawaii, Mieko from Japan, Santino from Argentina, Freja from Sweden and many more. However when you turn to December 24 and see Santa visit the UK your child gets to see their own name displayed. Ivy's shocked reaction to this was priceless as she wasn't expecting it at all!
This would make a wonderful gift and I know it's a book which Ivy will come back to year after year. Gorgeous!
Buy it now: https://helloruth.co.uk/products/personalised-advent-calendar-storybook
Disclosure: The publisher provided us with a copy of this book in exchange for an honest review.