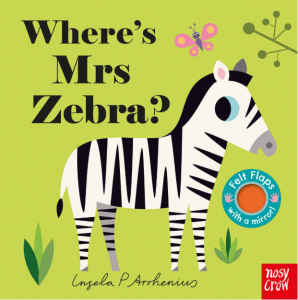 Earlier this week we visited London Zoo as a half term treat for Ivy. The highlight of her day was undoubtedly seeing the giraffes up close, but for me it was our visit to the gift shop as they had a phenomenal selection of books. From baby books right through to detailed encyclopedias, there was definitely something for every child to enjoy.
Ivy was allowed to select one title from their shelves and she headed straight for this beautiful board book from Ingela P. Arrhenius and Nosy Crow.
She's three and a half now, but we've seen renewed interest in board books of late because she likes to try and read them herself by guessing what is going on in the pictures. This book is perfect for this type of game and as a result I honestly think we've read it 50+ times in the last few days!
Each beautifully illustrated double page asks you to guess the location of an animal, which can be found hiding behind a durable felt flap. Each page follows the same format, so Ivy feels very confident 'reading' it by herself (which means she's doubly excited when she lifts the flap and finds the creature!). As the flaps are made of felt then they're also far less likely to get damaged by tiny hands.
In this book we meet Mr Rhino, Mrs Gorilla, Mr Flamingo and Mrs Zebra, and I like the fact the gender split is 50/50 as so often we see it skewed towards male animals. The last page has a hidden mirror for an extra special surprise!
It's one of a series featuring lots of different animals. I've spotted about 15 titles but there could be more!
Buy it now: https://amzn.to/2QH2aok