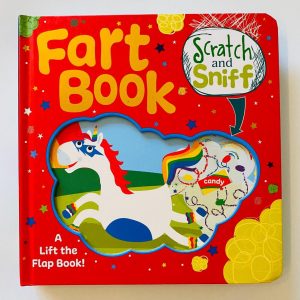 Most pre-schoolers find bodily functions hilarious so, unsuprisingly, this scratch and sniff board book about farting was an instant winner with Ivy!
Every page shows a different animal and your child is invited to lift a flap and then scratch a panel to discover what their farts smell like. Fortunately the smells are all pleasant ones. Unicorns smell like jelly beans, bears smell like honey, monkeys smell like bananas and horses smell like apples. Even the cheesy mouse farts are quite aromatic – in a good way!
The lovely illustrations are accompanied by rhyming text which makes Ivy laugh every time we pick up the book. The chunky pages are perfect for little hands (aged 3+) and despite lots of scratching, the sniffable panels seem to be holding their smells really well.
This is a really light-hearted read, which Ivy has played with again and again.
Buy it now: https://amzn.to/2uJTA1l
Disclosure: The publisher provided us with a copy of this book in exchange for an honest review