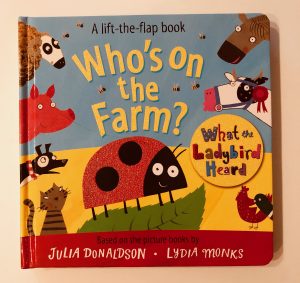 We're big fans of 'What The Ladybird Heard' by Julia Donaldson & Lydia Monks. In fact we went through a stage towards the end of last year where we read it at bedtime every night for about 2 months! The illustrations, in particular, are fantastic so we love this little spin off board book with a 'peekaboo' theme.
The book starts by asking you who you can see on the farm. It shows you pictures from the original title and identifies the characters, but there are also lift-the-flap sections which encourage you to guess who is hiding. Little fingers can open the chicken coop to find the fat red hen, move a haystack to spot the hairy hog and find the cats behind the hedge. Look carefully and you might even spot Hefty Hugh and Lanky Len in a pile of manure!
As with the original, the little ladybird features on every page so you can turn trying to spot her in to a fun game!
If you already have 'What The Ladybird Heard' then this is a fun addition to your collection as it features a host of characters which will already be familiar to your child.
Equally, it a great format with which to introduce the book to slightly younger children, who may not yet be ready for the full picture book.
Buy it now: https://amzn.to/2PYy7ex