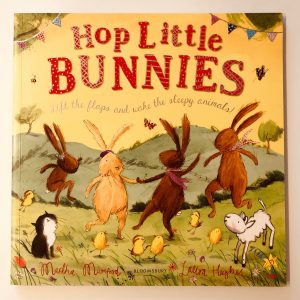 Ivy always gets excited when we receive parcels of books in the post but when we opened this one she was bouncing with joy as it combines two of her favourite things – the song 'Sleeping Bunnies' and lots and lots of little flaps to lift and explore.
Adapted from the popular nursery rhyme, this beautiful book starts with a group of very sleepy bunnies lazing on picnic blankets. You are invited to wake them up by lifting the flaps and then turn the page to see them all 'hop hop hop'.
The group of bunnies then take a little walk through the countryside and find lots of other animals having a snooze, including lambs, chicks, kittens and ducklings. Your little one can wake them all up by lifting the flaps (or by yelling 'WAAAAAAKE UUUUUUP' as Ivy chose to do!) and watch them play together.
We both love this one. The gorgeous illustrations give off a warm and fuzzy vibe and there's tons of detail to enjoy. I found it impossible not to sing the words so when we read it we usually end up dancing around the living room afterwards!
It's really fun and uplifting – and made me realise that now we're in February, Spring really isn't too far away. Hurray!
Buy it now: https://amzn.to/2RCrbzO  (published on Feb 7th 2019)
Disclosure: The publisher provided us with a copy of this book in exchange for an honest review