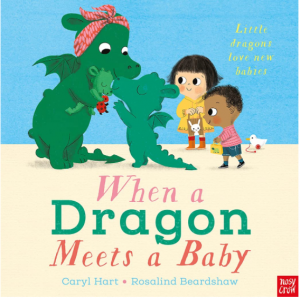 The prospect of a new sibling is very exciting but most children struggle with the sudden shift in the family dynamic when a baby actually arrives. This beautifully illustrated book is perfect for reading in those final months of pregnancy, to help your little one process the changes that might lie ahead.
Dragons, much like toddlers, tend to have an air of mischief about them and this story plays on their 'naughty' reputation to great effect. How would you expect a little dragon to behave when they are no longer the centre of attention? Surely they will stomp their feet, huff and puff and breathe some fire, right? Well no. It turns out that little dragons now exactly how to behave around a new baby and they have lots of great advice to share. Children will want to align themselves with the dragon's positive behaviour because she's such a cute and kind character.
Written in gentle, melodic rhyme the story identifies potentially negative reactions and then turns them into a positive. We are shown how we would expect the little dragon to behave, followed by how she actually responds to the situation. There's lots of humour but equally we learn lots of practical ways which the older sibling can help and get involved.
This is the third title in this fantastic series by Caryl Hart and Rosalind Beardshaw. You may already be familiar with 'When A Dragon Comes To Stay' and 'When A Dragon Goes To School' – but if they are not on your radar then they should be! Each one follows the same winning format with the positive to negative mindset switch and features the same utterly adorable dragon family.
Buy from Bookshop.org and support independent bookshops: https://uk.bookshop.org/a/155/9781788008884
Buy from Amazon UK: https://amzn.to/3hUaSiy
Note these are affiliate links and Ivy's Library will receive a small commission if you choose to purchase through them.
Disclosure: The publisher provided us with a copy of this book in exchange for an honest review.
We'd like to say a big thank you to Caryl Hart and Nosy Crow for inviting us to be part of the Blog Tour for this gorgeous book. Make sure you check out the other stops on the tour to see what everyone else thought!