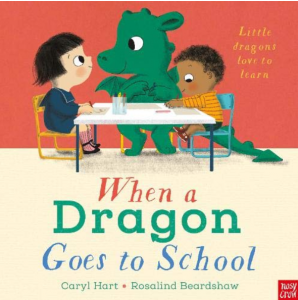 If your little one is headed to 'big school' later this year then I would definitely recommend grabbing yourself a copy of this gorgeous book to read over the summer holidays!
Before Ivy and I read this together I asked her a question – how do you think a dragon would behave if they went to school? She immediately answered 'NAUGHTY', which was exactly what I was expecting her to say! This set the scene perfectly for the story as it turns out that dragons are better behaved than she realised…
The story follows an adorable dragon as she navigates her first day at school. We see her say goodbye to her mum and dad and greet her new friends. She eats her lunch, reads some stories and plays in the playground before preparing to head home. These are all scenarios which a child will encounter on their own first day and with Dragon's help they will learn how to meet each new challenge with a smile.
Does Dragon hide when she gets to the school gates? No! She scrambles through the door and hangs up her coat. Does she throw crayons around or splash the paints? No! She helps hand out the paper and draws the best rainbows she can. Does she hog all the best toys in the playground? No! She shares with her friends and they all have lots of fun. However there is one scenario when a dragon will always stomp their feet – when it's time to go home!
Ivy loves the format because it shows you the naughtiness you would expect from a dragon before it shows you her actual behaviour. The words 'Dragons Don't Do That!' are repeated throughout the book and she takes great pleasure in joining in.
We'll be talking about school a lot this summer as Ivy is due to start Reception in September. I am already encouraging her to #BeMoreDragon and it's proving to be a useful tool!
The story gently prepares children for how they should behave in the classroom and shows them that school is fun and not something they need to worry about. This is also reflected in the wonderful illustrations which are warm, welcoming and friendly.
Buy from Bookshop.org and support independent bookshops: https://uk.bookshop.org/a/155/9781788007719
Buy from Amazon UK: https://amzn.to/30a8gT6
Note these are affiliate links and Ivy's Library will receive a small commission if you choose to purchase through them.
Disclosure: The publisher provided us with a copy of this book in exchange for an honest review.