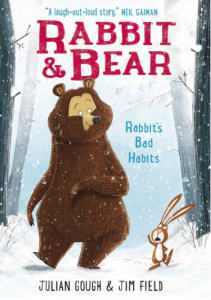 It's time for another chapter book review and this one is the first in a fab series which will have your kids laughing out loud!
Bear wakes up early from hibernation to discover that someone has sneaked in to her cave and stolen all of her food. How rude! But Bear is a 'glass half full' kind of girl so she decides to make the most of her early start by building a snowman.
Whilst rolling the snow into a suitable shape she encounters a rabbit who doesn't quite share her joyful view of the world. Rabbit is grumpy and he wants everyone to know about it. Rabbit has never built a snowman but he knows that if he did it would definitely be better than Bear's!
As the two busy themselves on their creations they start to talk and Rabbit gives Bear a rundown on how awful it is to be a bunny. He even lets slip that he has to eat his own poo!