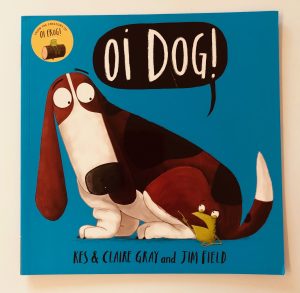 Oi Dog! is the second title in the zany 'Oi Frog and Friends' series. There are currently four books and we love each and every one!
If you've read book one – Oi Frog! – you'll know that these bonkers tales are about a peculiar set of rules which dictate where an animal can sit. In the first story we met Cat, Dog and Frog. Cat explained that animals are only allowed to park their bums on things which rhyme – so cats sit on mats, frogs sit on logs and (unfortunately for this particular frog) dogs sit on frogs. Squish!
As we move in to book two we see the feisty frog choosing to rebel. He disagrees wholeheartedly with the current rules so sets about making some of his own.
From now on dogs will sit on logs and they definitely won't sit on frogs! And cats? They can sit on gnats and it serves them right if their bottoms get bitten. Naturally Cat is unimpressed but Frog is on a roll and some of the seating arrangements he comes up with are hilarious. Ivy particularly loves the bold illustrations of the elephants sitting on smelly pants, the mice sitting on ice (brrr!) and the pigs sitting on wigs!
The anticipation builds as you wait for the inevitable punchline – what will frogs sit on now?
This whole series is fantastic and they're all great fun to read aloud. The sheer volume of rhymes in each book mean that if you read them at speed then you trip over your words – resulting in lots of toddler giggles!
Buy it now: https://amzn.to/2CSNWeF