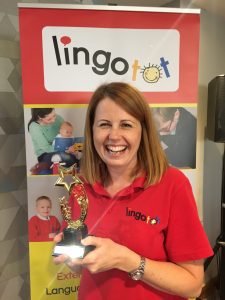 Tell us a little bit about yourself and your family
Hello! My name is Jaclyn and after having my son in April 2016 I left my Facilities Manager role in London and I now run Lingotot Gravesend. I live in Hoo in Kent with my husband and our son Finn who is 2.5, and we love to travel to see my parents who live in rural Spain. I'm part of a book club who meet monthly and I love to read, sadly I don't have as much time as I used to when I used to commute to London and had hours to read, but I now enjoy reading with my son who loves to sit down with a new book and read it over and over (and over…) again!
What is your son's favourite book?
Finn's current favourite is Oi Frog! By Kes Gray & Jim Field – it's a hilarious rhyming story about a frog who discovers that all animals have their special places to sit. Finn loves saying the relevant rhyming word to the animal (i.e. cats sit on mats, foxes sit on boxes) and he's learnt lots of new words as a result. There are lots of different animals in the series and I can't wait to get more books for us to read.