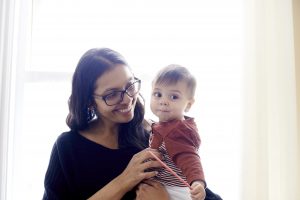 Tell us a little bit about yourself and your family
I'm Sakina. Mum of 2 boys, 7 and 4 living in South London. I'm a Hypnobirthing teacher and Birth Trauma Resolution Practitioner which I became passionate about after becoming a mother. I have always loved reading in my life and sharing books with my kids has brought so much joy and connection to my days as a mother. In those early years at home sometimes at a loss of what to do, a good book and a cuddle on the sofa would transform our day and reconnect us.
What is your son's favourite book?
Currently this is the Oi Frog series by Kes Gray & Jim Field. The books are about a Cat, Frog and Dog who create rules about where animals can sit. It's full of humour, rhyming and silly rules that are totally in tune with them and their world. Plus it has the most amazing colourful illustrations that really bring it all to life
Which book do you most like reading to them?
My favourite book is Giraffes Can't Dance by Giles Andreae & Guy Parker-Rees. I could read this book to them a thousand times and not be bored, luckily they love it too! I grew up in Africa and it's about a Giraffe who wants to join in the Jungle Dance but needs to connect with his own rhythm and talent. Totally feels like me growing up in 1980s London, finding that inner confidence and my own voice on me. It's a message I want my children to have; to be proud of who they are and embrace and use their unique talents and gifts in the world.
What was your favourite book when you were a child?
I LOVED reading on my own as I got older and don't have many memories of being read to at a young age but I'm sure I was. My mum bought me Jacqui Wilson books and I remember those being my first loved books, The Suitcase Kid was one that really started to connect with me. As a step-child the themes resonated and the sense of belonging really came across even in those earlier years of reading.
What do you look for when shopping for a new book for your sons?
I look for deeper meaning and something that relates to life and challenges and growth plus has fun and lightness in it. Having been an actress the motivations of human behaviour has always fascinated me and I love children's books that gently explore and give us something to discuss after the book. I recently bought Ruby's Worry by  Tom Percival and Words and Your Heart by Kate Jane Neal.
As an mum to a son with ASD, books are a great way of exploring emotion and empathy whilst celebrating the thing that makes us all human but also unique.
Do you have a favourite children's bookshop? 
No but I love libraries and wish they were used more and funded better. I remember going to the library as I child and it's a romantic memory. My kids still love a library visit now, the choice and space to explore books plus run around a bit is perfect for a rainy day. Plus many have great family and kids activities to inspire the imagination and have a place to go with your kids.
About Tranquil Birth

Sakina is a South London-based mum of 2 boys and founder of Tranquil Birth which supports women and their partners to calmer, more confident birth experiences using hypnobirthing and emotional wellness techniques as well as postnatal therapy for those who have experienced birth trauma.
www.facebook.com/tranquilbirthuk
www.instagram.com/tranquilbirth
As a mum who was transformed by birth experiences, I also blog about the journey of motherhood, healing and life as a woman on https://acaciawoman.blogspot.com/ and on Instagram www.instagram.com/acacia.woman