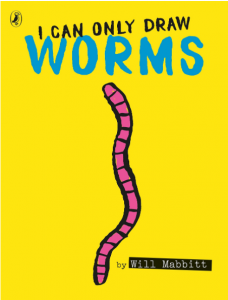 It's rare that I sit down to write a review and don't really know what to say. This book has no clear story and the only illustrations are crudely drawn worms – yet somehow it's completely brilliant and we just can't stop reading it!
So what exactly is it about I hear you ask?
Well, it's about worms.
And counting.
And counting worms.
Because the author can only draw worms.
And that is about all I can tell you! One of the worms has glasses and one of the worms gets accidentally cut in half. One of the worms even has a flying unicorn and travels to outer space – except the author can only draw worms so we have to imagine the rest…
The first time we read it, Ivy's eyes got wider and wider with confusion. At the end she just said 'Whaaat?!' and then immediately demanded I read it again. Now she laughs and laughs each time we get it off the shelf.
Brightly coloured and utterly bonkers, I cannot recommend this book highly enough!
Buy from Bookshop.org and support independent bookshops: https://uk.bookshop.org/a/155/9780141375182
Buy from Amazon UK: https://amzn.to/2ULoZuB
Note these are affiliate links and Ivy's Library will receive a small commission if you choose to purchase through them.