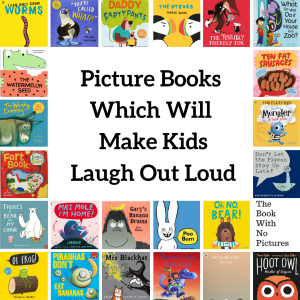 Since the UK lockdown was announced I have had lots of messages from parents who are looking for new books to entertain their little ones. To lighten the mood, I have put together a selection of all our funny favourites. Let us know if there are any you would add to our list!
The Book With No Pictures by BJ Novak – Without giving too much away, the basic premise is that the person reading the book has to read every single word out loud, whether they want to or not. Read the review.
Daddy Fartypants by Emer Stamp & Matt Hunt – Daddy Fartypants has a problem. He farts ALL THE TIME! And what's worse is that he never owns up.  Every time he does a bottom burp he blames someone else, whether that's a tiny baby, a snail or a bear on the telly. Read the review.
Dinosaurs Love Underpants by Claire Freedman & Ben Cort – This story is about how the dinosaurs became extinct, and if you think they were wiped out by an asteroid or another mass extinction event then you are sadly mistaken. It's all because of UNDERPANTS! Read the review.
Don't Let The Pigeon Stay Up Late by Mo Willems – This is our favourite from the fabulous Pigeon series. Much like your average toddler, Pigeon doesn't want to go to bed. We can see that his eyes are closing but he insists he's wide awake. In fact, he thinks this might be the perfect time to have a hot dog party… Review coming soon.
Gary's Banana Drama by Jane Massey – Poor Gary the Gorilla. He absolutely loves bananas but one day he discovers that there are no more left. Distressed, he heads out to find some but soon he starts seeing them everywhere. Could he be hallucinating bananas? Read the review.
Hoot Owl: Master Of Disguise by Sean Taylor & Jean Jullien – Hoot Owl isn't just any old owl. He is the master of the disguise! Or at least he thinks he is… Every night he goes out in search of a meal and uses his disguise 'skills' to try and capture his prey, with disastrous results. Read the review.
I Can Only Draw Worms by Will Mabbitt – An utterly bonkers book about counting and worms. This is a recent addition to our collection and Ivy finds it hilarious. Review coming soon.
Mrs Blackhat by Chloe & Mick Inkpen – This book about a wacky witch is great to read aloud as it features lots of quirky spells and fun sound effects. Ivy is a big fan of the extremely loud KABOOOOM in the final spell and the outcome always makes her laugh out loud! Read the review.
Mrs Mole, I'm Home! by Jarvis – Morris the Mole has had a tough day at work and all he wants to do is get home to his family. The problem is he can't find his glasses anywhere! He burrows in what he believes to be the direction of home but he keeps getting it wrong, again and again and again. Read the review.
Oh No, BEAR! by Joanne Partis -Everyone needs a go-to funny book on their shelf and this bright yellow beauty is brilliant! When Bear wakes up one chilly morning he knows he has something important to do but he can't quite remember what it is… Read the review.
Oi Frog! by Kes Gray & Jim Field – This series of books  definitely wins the award for most random but we love them! The story centres around a strict set of 'rules' which determine what different animals are allowed to sit on. Read the review.
Piranhas Don't Eat Bananas by Aaron Blabey – Brian is a piranha who loves nothing more than to tuck in to some fruit and veg – but his piranha friends think he's bonkers because their favourite pastime is nibbling on tasty humans. Read the review.
Poo Bum by Stephanie Blake – This quirky book featuring a very cheeky bunny is a guaranteed crowd please because all toddlers think the words Poo and Bum are hilarious! Read the review.
Scratch & Sniff Fart Book by Barney&Buddy Ltd & Nicola Moore – This book does exactly what it says on the cover! Every page shows a different animal and your child is invited to lift a flap and then scratch a panel to discover what their farts smell like. Fortunately the smells are all pleasant ones. Read the review.
Ten Fat Sausages by Michelle Robinson & Tor Freeman – Most of you will be familiar with the old children's counting song about ten sausages in a pan. The sausages in this book have obviously heard it too as they absolutely refuse to go POP or BANG! Read the review.
The Terribly Friendly Fox by Susannah Lloyd & Ellie Snowdon – It's time for the Annual Woodland Creatures' Ball and the little Mouse host has been busy getting his house ready for the occasion. He's over the moon when a throng of guests appear but is somewhat surprised when a Fox turns up wearing a tuxedo and clutching a bunch a flowers. We love the dark humour in this one! Read the review.
There's A Bear On My Chair by Ross Collins – A little mouse in an adorable little jumper is absolutely furious to discover a polar bear sitting in his favourite chair. He tries everything he can think of to get the bear to move but he just keeps on sitting on that chair without a care in the world… Read the review.
There's A Monster In Your Book by Tom Fletcher & Greg Abbott – There is a monster in your book and you need to get him out! Follow the instructions to try and shake, tickle and spin the cute little creature out of the book. But what happens when he actually escapes? Read the review.
The Steves by Morag Hood – At the start of this story we meet a puffin who introduces himself as Steve, but on the very next page we meet another puffin, who is also called Steve! What follows is a madcap competition to prove which one is the most Steve – the very Stevest of Steves there can be. Read the review.
We Found A Hat by Jon Klassen – Two turtles find a hat in the desert.  They try it on and it suits them both. They each very much want the hat but there are two of them and only one hat. What now? Read the review.
The Watermelon Seed by Greg Pizzoli – The little baby crocodile in this story LOVES watermelon. He eats it for breakfast, lunch and dinner and simply can't get enough of its yummy taste – until one day he swallows a seed… Read the review.
The Wonky Donkey by Craig Smith & Katz Cowley – Made famous by a certain scottish granny, this story is about a 3-legged donkey. Each time you turn the page you learn a new fact about the donkey, which slowly turns the rhyme in to a massive tongue twister. Read the review.
You're Called What?! by Kes Gray & Nikki Dyson – This story takes place at the Ministry of Silly Animal Names where a little Cockapoo puppy is waiting to change his name because his friends make fun of him. However he soon realises that compared to some he's actually quite lucky! Read the review.