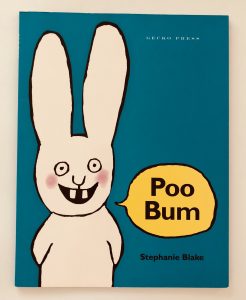 This quirky book from Stephanie Blake is a guaranteed crowd please because all toddlers think the words Poo and Bum are hilarious!
The story is about a little bunny called Simon who can only say two words – "Poo Bum". Every time he is asked a question he only has one response – "Poo Bum". One day he meets a wolf, who asks if he can eat him. When Simon responds "Poo Bum" the wolf takes this as a yes and gobbles him right up!
The little bunny causes a tummy ache though so a doctor is called, who happens to be Simon's Daddy. When the Wolf starts saying "Poo Bum" during the examination the doctor begins to suspect the wolf has eaten his son. Can he rescue him, and what effect might the incident have on the little bunny's vocabulary?
Every time we read this book Ivy ends up with the giggles. The story is really funny and the simple, brightly-coloured illustrations are superb. The only downside is that now she sometimes answers my questions by saying "Poo Bum" when she's in a cheeky mood!
Buy it now: https://amzn.to/2KIEPTt
P.S. – We recently discovered that Simon the bunny has his own show – you can watch it on Netflix UK