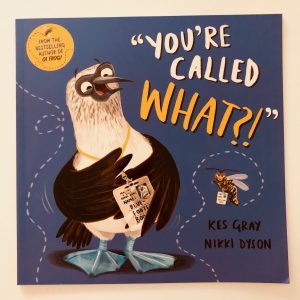 We love Oi Frog! and Oi Dog! so when we spotted this new one from Kes Gray we knew we had to get it right away. We're glad we did because it's hilarious!
The story takes place at the Ministry of Silly Animal Names where a little Cockapoo puppy is waiting to change his name because his friends make fun of him. However he soon realises that compared to some he's actually quite lucky! Whilst waiting in the queue he meets a Blue-Footed Booby, a Tasselled Wobbegong, a Monkeyface Prickleback and lots more (real!) animals with crazy names.
The names get sillier and sillier until we meet a little wasp who has a name that literally can't be said without laughing. Can you guess what kind of wasp he is?
Ivy loves this book and joins in with all the animals as they laugh at each others names. The illustrations of the weird and wonderful creatures are fantastic and there's also a fascinating little section at the back which tells you a little bit about each of the animals featured and shows you a photo of what they actually look like.
Buy it now: https://amzn.to/2ofZQHm