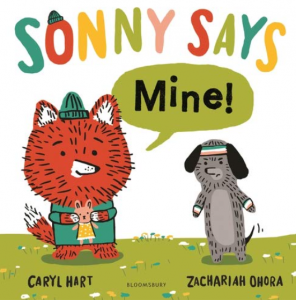 When Sonny finds a pink bunny in the sandpit he is beyond excited. A new toy just for him! He gives it a snuggle and names it Bun-Bun. Sonny likes the bunny so much he is completely consumed by it. He feeds it sand, reads it a story and swings it around with joy.
However in his excitement Sonny has forgotten all about the friends he came to the park to see. Mid-game he looks up and sees his pals Honey and Suki walking towards him. Suki is crying because she has lost her favourite pink bunny – the exact same bunny that Sonny has been playing with. Sonny panics that his new toy will be taken away and quickly hides it under a bucket. He even lies when Honey asks him directly is he has seen it.
As Sonny watches Suki cry he realises he has a choice to make – should he keep the bunny for himself or should he return it to its rightful owner?
'Sonny Says Mine!' is the first book in a new series for preschoolers, written by Caryl Hart and beautifully illustrated by Zachariah Ohora.
I'm a big fan of Caryl's as she is an absolute master at taking a tricky theme and weaving it into a story in such a way that it's understood but doesn't detract from the enjoyment from the story. This is a really fun and playful read but it has strong morals and conveys a great message.
Ivy grasped the heart of the story straight away and genuinely felt sorry for Sonny and his conundrum. Her conclusion? "He loves the bunny but it isn't really his, is it Mummy? He has to give it back because otherwise it's not fair, and the girl is really sad because it's her favourite."
If your child is going through that phase where everything is 'MINE!' then this is the perfect antidote. It will help them learn to share, play nicely and also empathise with others.
Buy from Bookshop.org and support independent bookshops: https://uk.bookshop.org/a/155/9781526607393
Buy from Amazon UK: https://amzn.to/3sjj8tV
Note these are affiliate links and Ivy's Library will receive a small commission if you choose to purchase through them.
Disclosure: The publisher provided us with a copy of this book in exchange for an honest review.