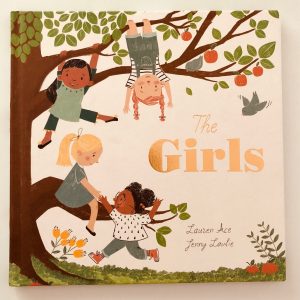 Ladies – I guarantee that when you read this book you will want to buy a copy for each of your childhood friends. It is stunning!
The book is about a group of four little girls who find friendship under an apple tree. Despite having very different personalities, they share stories, adventures and scraped knees, forming a bond that will last a lifetime.
The character traits that we see in the girls as children follow them in to adulthood as we watch them chase their dreams and find love (and heartbreak). Their situations change and they don't see each other as often as they'd like but their apple tree is always there, getting stronger and growing roots that reach ever deeper.
This is a beautiful book and it's one which Ivy currently chooses to read at bedtime most days. She loves the four little girls as if they were her own friends and remembers each of their names. Her favourite is practical Sasha who puts plasters on knees when her friends get an 'ouchy' and who works hard to eventually become a doctor.
Friendship is at the heart of this story but there are so many other positive themes which shine through. We see the girls work hard to get where they want to be and we see them support each other through difficult times.
There's also a great sense of acceptance and diversity. The girls are from different cultural backgrounds and they celebrate their similarities and differences. Also, one of the girls is LGBT and we see all of the girls join together to attend Pride with her. All of this is portrayed through the beautiful illustrations rather than being pointed to within the book so you can use the pictures as great conversation-starters with your child.
All in all, I think this is one of our all-time favourites and it's a book i'd love to see on nursery/primary bookshelves everywhere!
Buy from Bookshop.org and support independent bookshops: https://uk.bookshop.org/a/155/9781529041903
Buy from Amazon UK: https://amzn.to/2wrzK7U
Note these are affiliate links and Ivy's Library will receive a small commission if you choose to purchase through them.