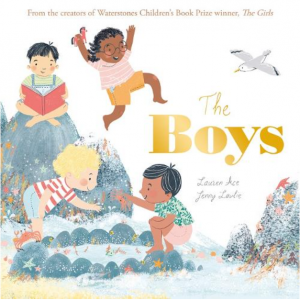 "No boy is an island and the bravest way to face problems is to talk and to listen."
'The Girls' by Lauren Ace and Jenny Løvlie is one of our all-time favourite children's books. It celebrates female friendship in such a relatable way and instantly made me want to buy copies for all of my childhood friends. When I shared my review back in 2018 the response was universal – we need this for boys too! It's been a long time coming but 'The Boys' is finally here, and it is everything I hoped it would be.
The story is about four boys who are as close as brothers. Rey, Nattie, Bobby and Tam spend much of their childhood playing on their favourite beach under the watchful eyes of their mothers (who will look very familiar to you if you have read The Girls!). Each boy is very different but together they make a phenomenal team. The foursome build sandcastles, fly kites, learn how to swim and gather to tell stories around the campfire. Their worlds are completely entwined and they revel in each others company.