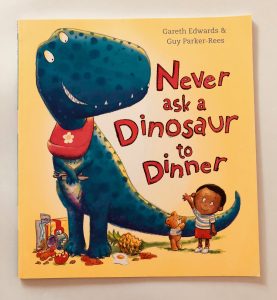 This funny book by Gareth Edwards and Guy Parker-Rees always makes Ivy laugh. It follows a little boy as he goes through elements of his day – but he has chosen some rather crazy animal friends to help him with each task!
He eats his dinner with a dinosaur who gobbles everything up before he gets a chance to eat a single bite. He uses a tiger as a towel when he gets out of the bath – and unsurprisingly the tiger is a little cross! He even tries to use a giant bison as a blanket which proves a little uncomfortable.
Follow him as he discovers why dinosaurs, sharks, beavers, tigers, bison and owls don't always make the best companions.
The rhyme scheme is really bouncy which makes it a lot of fun to read and it's also a good book for discussion. A barn owl might not be the best thing to cuddle up to at night because of his sharp claws and nocturnal habits – so what might make a better bed fellow?
Buy it now: https://amzn.to/2G8vahE