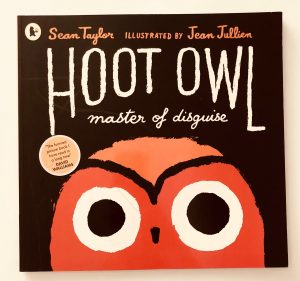 Hoot Owl isn't just any old owl – he is the master of the disguise. Or at least he thinks he is! Every night he goes out in search of a meal and uses his disguise 'skills' to try and capture his prey.
He tries to catch a rabbit by dressing up as a carrot. He tries to fool a lamb in to coming near him by dressing as a mummy sheep. He disguises himself as an ornamental bird bath in order to catch a pigeon. He thinks he's extremely clever but the fact is his disguises are rubbish! None of the animals are fooled and Hoot ends up with a very rumbly tummy indeed.
His opinion of himself is so high that he cannot understand why his tactics aren't working. It looks as though poor, delusional Hoot may have to go hungry. But then he spots a steaming hot pizza. Can he put together a disguise which will fool this yummy prey?