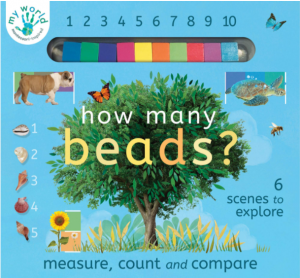 When Ivy and I are looking for something fun to do then Maths generally isn't at the top of the list – however this fab board book has managed to change that! It's part of a montessori-insired series called 'My World' which encourages childen to explore the world around them. Aimed at children aged 3-5, the book has a built-in string of colourful beads which you can use for counting and measuring.
Each double page spread shows a different scene for you to explore – including the home, the garden, under the sea, around town, the inside of a drawer and nocturnal animals. Kids are then encouraged to use the beads to count or to measure the things they can see. How many apples are there? How many bees? What's the tallest household object? Which is the longest fish? Which items are too big to fit in the shed? Which animals are small enough to fit in the tent?
The string of beads is genius because it adds such a fun interactive element. Ivy has loved the measuring in particular and, as well as the things in the book, she's also used the beads to measure her small dolls and toys.
The beads are securely attached and we've found it to be very sturdy, but Ivy is now at an age (5) where she is very careful with her books. If you're using it with a much younger child then you might want to make sure they are supervised just in case!
Buy from Bookshop.org and support independent bookshops: https://uk.bookshop.org/a/155/9781838910235
Buy from Amazon UK: https://amzn.to/3txNDgD
Note these are affiliate links and Ivy's Library will receive a small commission if you choose to purchase through them.
Disclosure: The publisher provided us with a copy of this book in exchange for an honest review.