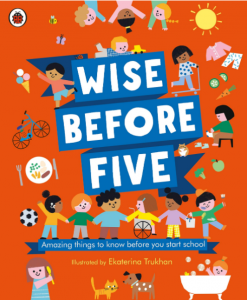 Today is the big day! Ivy had her very first day at school. She went through the gate full of smiles ready for her big adventure so I have all my fingers and toes crossed that the transition is a smooth one.
One of the books we've been reading over the weekend to prepare her is this gorgeous hardback called 'Wise Before Five' which I spotted over on Instagram and simply had to buy. It has helped reassure her that she actually knows lots of things and is more than ready for school.
Featuring a diverse cast of children (including a child in a wheelchair and a child with a hearing aid), this essential guide to being almost five covers a wide range of topics whilst quietly celebrating the joy of being unique.
The early pages look at things which most children should recognise from the world around them – from different kinds of homes and families to emotions, manners, and tips on how to make friends. It then moves through the foundations of learning, introducing numbers, colours, shapes and the alphabet. There are even sections on personal hygiene, healthy eating and daily routines.
The latter section highlights themes which are popular topics during the reception year – the solar system, animals, weather, seasons and looking after the planet. My particular favourite is the section on staying safe, which covers crossing the road, being online, playing safely, talking to strangers and what to do if someone makes you feel uncomfortable or unsafe.
I really can't recommend this book highly enough, and not just for the under fives! The warm and friendly illustrations coupled with the bite-sized facts make this a fantastic read and I can see us coming back to it again and again.
Buy from Bookshop.org and support independent bookshops: https://uk.bookshop.org/a/155/9780241415160
Buy from Amazon UK: https://amzn.to/334f71Z
Note these are affiliate links and Ivy's Library will receive a small commission if you choose to purchase through them.