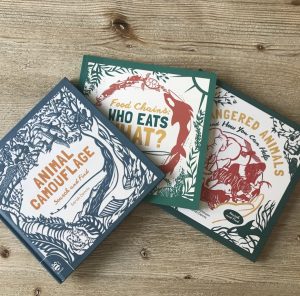 Sarah Dennis is an award-winning paper artist and illustrator whose work combines traditional paper-cutting techniques with collage. An extraordinary artistic talent, Sarah has previously worked with BBC Four, Tatler, The Guardian and Gosh Arts.
Since 2015, Sarah has teamed up with small-but-mighty UK children's publisher b small publishing to create a series of beautifully intricate search and find books – ANIMAL CAMOUFLAGE, FOOD CHAINS: WHO EATS WHAT? and ENDANGERED ANIMALS. Alongside Sarah's illustrations, these three books contain essential facts and knowledge about animals, the environment, and the beautiful natural world around us.
Here, Sarah tells us a little about the process behind her work!