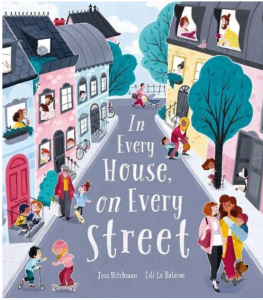 This gorgeous book celebrates the love, warmth and mayhem of a family home. The story follows a family of four as they take us on a tour of each of the rooms in their house.
First up is the kitchen where they bake, dance, sing and make a mess. Then we see the dining room where they eat, pretend to be pirates and tickle their parents feet under the table. The living room is for relaxing and getting things off your chest, whilst the bathroom is for washing and pulling funny faces in the mirror.
The richly worded rhyme and the warm illustrations show us love, laughter and tears against a familiar backdrop of toys, washing up and teetering piles of books.
There's lots of little details to explore and Ivy particularly likes the fold out section at the back which allows you to pull back the fronts of all the houses on the street and see what's going on inside. These homes feature a diverse group of families all doing different things behind closed doors – playing, reading, dancing, exercising, eating dinner, working on computers. There's even a little girl playing the piano wearing a dinosaur costume!
Ultimately you see that although families and houses all look different, the love in their homes is the same.
Buy from Bookshop.org and support independent bookshops: https://uk.bookshop.org/a/155/9781788814072
Buy from Amazon UK: https://amzn.to/34DtLwW
Note these are affiliate links and Ivy's Library will receive a small commission if you choose to purchase through them.
Disclosure: The publisher provided us with a copy of this book in exchange for an honest review.