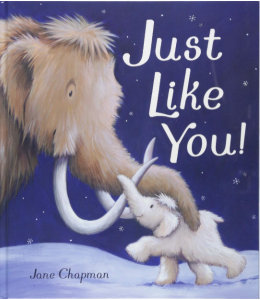 Piccolo is a tiny woolly mammoth who wants to grow up to be just like her Dad. She watches him topple trees so she can nibble the leaves and marvels as he ploughs through giant snowdrifts so that she has room to play. When she tries to copy him she gets very frustrated – she can't wait until she is big and strong just like him.
One wintry day her Dad suggests that the two of them head off on a little adventure. Piccolo starts off bouncing with excitement but their journey turns out to be much longer than expected and soon her little legs are struggling. Despite her tiredness she doesn't want to give up and when they arrive at their destination she discovers that her Dad has brought her to a very special place.
A tall tree towers above them and when she looks at it closely she sees lots of unusual markings. Her Dad explains that generations of their family have travelled to this tree with their little ones and each time they come here they make a notch in the bark to measure how tall they are. Piccolo is amazed to discover that her Dad was once even tinier than she is!
This is a really heartwarming story about the bond between father and child and it's great for kids who can't wait to grow up. The illustrations are warm and soothing, making it absolutely perfect for a snuggly bedtime story.
Buy it now: https://amzn.to/2Bkq1WY
Disclosure: The publisher provided us with a copy of this book in exchange for an honest review.