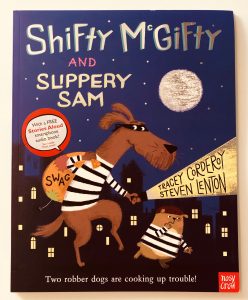 This book is fairly new to our collection but it has quickly become a firm favourite!
Shifty McGifty and Slippery Sam are a pair of robber dogs – their goal is to steal things to make lots of money. The problem is that they are absolutely rubbish at it! Every night they come home with empty swag bags having failed yet again to burgle a bank or a shop. They decide that in order to increase their chances of success they need an easier target – their neighbours. Their plan is to hold a party, invite them all round and then sneak in to their house and steal their belongings whilst they're having fun.
So that the party seems legit, they whip up some doughnuts, cupcakes and fruit pies, and they discover that they're actually pretty good at baking. Very good, actually – and it turns out to be fun too! When the day of the party arrives their neighbours are all very impressed with the sugary treats and declare them the "best buns in town".
Soon it's time for Shifty and Sam to head next door and fill their bags with swag. Will they succeed? And if they don't, is there perhaps a different career path they are better suited to?
The bouncy, superbly crafted rhymes and the fab illustrations make this perfect to read aloud at bedtime, and we love a book with a good life lesson. Despite initially choosing the wrong path in life, Shifty and Sam are good dogs at heart and manage to redeem themselves. Whilst the rowdy cast of neighbourhood hounds choose to forgive their behaviour and help get them on the straight and narrow.
Buy it now: https://amzn.to/2RAVbAQ