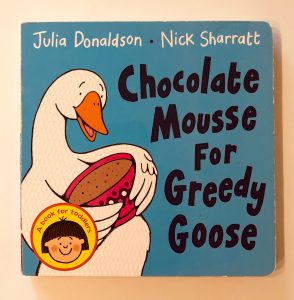 The animals in this story are about to sit down for dinner, but nothing about this particular meal is going to be straightforward.
Chimp's food is too hot, Duck won't eat his carrots, Goose has forgotten his manners, Hyena is licking the bowl and Moth is busy nibbling on the wash cloth. It's mayhem!
Finally the plates are empty – but will the naughty animals help clean up after themselves or do they have other ideas?
This brightly-coloured board book is perfect for younger toddlers, especially if they are picky eaters (like Ivy!) or are still learning the rules of the dinner table. They rhyme is bouncy and fun and we love the detail in the pictures. Ivy likes to point out the fact that the kangaroo has popped some carrots in her pouch for later!
Buy it now: https://amzn.to/2B2dLHY